| | |
| --- | --- |
| Jessie Gurunathan played Dawn in The Tribe, the farm girl 'with attitude', who appeared in only three episodes. In series one episode 32 she appeared alongside Vanessa Stacey, who had a guest appearance as Alice – the owner of a farm. In series two of The Tribe Vanessa Stacey became a member of the core cast and in episodes 6 and 7 Jess made her second appearance on the show. The character Dawn had alot to say, she was opinionated, had attitude and made an impression as she was one of the few characters on the series who were of a south asian descent… | |
Before her appearance on The Tribe, Jess Gurunathan's other notable TV appearance was in an episode of Cloud 9′s William Shatner's Twist In The Tale in the episode The Green Dress (clips of her can be seen in this video on youTube) in the episode she featured alongside Beth Allen and Michelle Ang. Anyhows, after The Tribe, Jessie took a break from acting and concentrated on her studies. She went on to study travel and tourism and became an international flight attendant with the airline Pacific Blue.
Jess' career as a flight attendant was shortlived. In 2005, aged 21, she entered a reality TV series on TVNZ called Miss Popularity. The series saw Jess and 9 other contestants face various challenges and elimination rounds, over a period of three weeks (broadcasted over 10 episodes). In the finale, proving to be popular amongst both male and female voters, Jessie won the coveted title of Miss Popularity and was gifted with $50,000 NZD aswell as a kick start to her new career in the limelight. Check out her showreel below…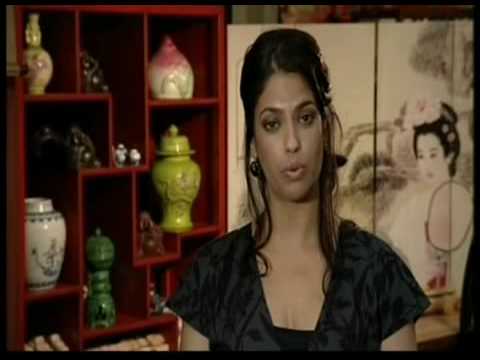 As you'll see from the video above, Jessie has done well following her title win as Miss Popularity. Though she does not act as much, she has become known for her friendly and down-to-earth approach in reporting and also presenting. Though things look great great for the star, it's not all peachy… Jessie has always been open about suffering from the medical condition endometriosis and has used her celebrity stature in the past to highlight the condition. As well as suffering from this condition, around this time last year, she also suffered a health scare while reporting for Asia Downunder; though fortunately she seems to be well and fighting fit now.
Recently Jessie came under criticism after getting involved in NZ politics following an appearance in a report on current affairs programme the Campbell Live Scoop. She spoke out about how her employer Melissa Lee, who owns the company that makes Asia Downunder, used taxpayers money to pay for promotional material for the polical party the National Party aswell as attempting to manipulate politics reports shown about the National Party… Well that's all too much to go into here! You can search online for more info on that issue.
Jessie sure has had an eventful career to date. There's no denying that Ms. Gurunathan is one of the hottest NZ talents around. Definitely proof that reaching the sky's not a limit, in every sense.
Check out Jessie Gurunathan's IMDB here.
Profile on NOVA Models here.
Odd Management talent agency profile here.
This concludes an "After The Tribe" report on Jessie Gurunathan, from a farm girl on The Tribe to finding fame… Hopefully they'll be more of these to come, stay tuned! If you'd like to write one get in touch!